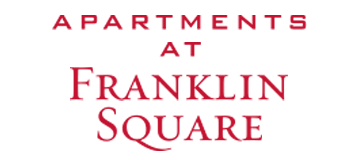 Resident Reviews
|

Recommended: Yes
Thank you so much for the 5-star rating and great review, we really appreciate it!
|Recommended: Yes
I like my two beds townhome — I like the neighbors, and the place is safe. The apartments inside are nice and clean, the size of the rooms are fine. The only thing that I dont like about my 2 bedrooms townhome is the closet in the master bedroom is too small and I can't fit my clothes.
Thank you for the review and feedback, Maria, we truly appreciate it!
|Recommended: Yes
I think the Franklin Square Apartments are great. I am enjoying living there.The office staff has been really great. — The Apartments are Great And I love living there
Thank you Jacqueline, we appreciate the awesome review! Please let us know if there is anything else we can do for you and we'd be happy to help!
|Recommended: YesIt's decent — The only issue I have is my neighbors in the back of me have kids that constantly run up and down the steps and I can hear it in my apartment. Also I have to park way up the street when I get off of work at 1130pm
|Recommended: Yes
Nice location and well kept — very nice location, quite neighborhood and well kept clean grounds
Thank you Laurie, we appreciate the great review!
|Recommended: Yes
A great place to live — The property is well kept and the staff is always kind and helpful with making sure everything is taking care of in a timely manner.
Thank you, Keshia, for the great review! We appreciate you taking the time to rate our community and all of the nice things you had to say about our staff. We hope you continue to like it here at Franklin Square; please let us know if there is anything else we can do for you!
|Recommended: YesEnjoyable, quiet, simple. — Right by a Hospital, you could technically call this one of the safest communities around.
|Recommended: YesPeaceful home, friendly environment — I really would call Franklin Square Apartments our home. I love how we kind of have our own backyard surrounded by trees. It is a friendly, family-oriented community. I'm glad we chose to live here.
|Recommended: YesNice,clean and save! — beautiful,clean and save environment,also nice for kids.
|Recommended: YesLove it here — When I moved here3 years ago, from the day I put in my application till now, the staff been wonderful from the office to the maintenance depth.
|Recommended: YesNice, quiet place to live. Great customer service! — Nichole & the office staff are incredibly helpful and Rob and the service team rock!
|Recommended: YesA great community to be a part of!! — Franklin Square Apartments is full of wonderful families that make an amazing community. The Maintenance Staff is always quick to respond and even very proactive in most matters. The Leasing Office Staff are readily available and eager to assist as well. I would definitely recommend.
|Recommended: YesAwesome — Simply amazing.
|Recommended: YesQuite community friendly people , clean and place to live, someone for maintance alway available — Its' a community with family that care and from what I've seem they take care of their children they take time out to play with them so I know that their learning is as equal. The people I have encounter are very friendly.
|Recommended: YesNice Community — It's a cozy and comfortable place to live. Affordable and convient to everything.